== Tiwann ==
Name:Tiwanna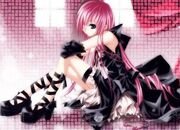 Age:9
Race:Elven
Likes:Time,Dialgia,
Dislikes:Space,Palkia
Tiwanna is the twin of Sukie.She, unlike her sister, controls time.With her fasination there soon became a problem, she couldnt control the power.
Deciding she need tutoring she goes to the Time
Master(hihihihi)for help.Tiwanna is the non stop jabber jaw though in a fight she leaves her sis to do the talking.She i has the better defense of the two.
1st:Time mage Wepon:Time Keyblade
2nd:?????????
3rd:??????????
4th:?????????
1mp:Reverse
2mp:Haste
3mp:Time Turner.
Theme Sexy Naughty Bitchy me: http://www.youtube.com/watch?v=4TMcx0rGy8M&feature=related
Ad blocker interference detected!
Wikia is a free-to-use site that makes money from advertising. We have a modified experience for viewers using ad blockers

Wikia is not accessible if you've made further modifications. Remove the custom ad blocker rule(s) and the page will load as expected.