Tamer( Shoot in the red light!)
Edit
Due to his hand corrupted, he has the power to shoot a small laser beam through his hand. But he can't control the laser so some guy offered him the tamer's glove.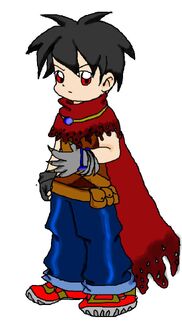 Unlocking
Edit
It's the 1st job so it doesn't need to be unlock.
Keystrokes
Edit
sorry guys. I'm too lazy to think of his attacks.lol. xD~Fallofdawn
1st Skill-Chaos hand- he punches the enemy and million times then ends with a big laser firing
2nd Skill-Dark bomb- he throws dark bombs and due to his hand corrupted, anyone caught in the explosion will be petrifired
3rd Skill-Dark laser-He fires a big laser from his hand(like Arme's Air Blast but only weaker)
Message from Fallofdawn to Gabriel333 :D
Edit
I can't believe you said Raynor likes Coco. I went crazy and happy about it! Ok, nice idea. We'll have CocoXRaynor as a love team. :D Wow, never knew someone/somebody will like my work. Oh yeah, the artwork is originally made by me, Fallofdawn! :D:D:D ~Fallofdawn
Ad blocker interference detected!
Wikia is a free-to-use site that makes money from advertising. We have a modified experience for viewers using ad blockers

Wikia is not accessible if you've made further modifications. Remove the custom ad blocker rule(s) and the page will load as expected.