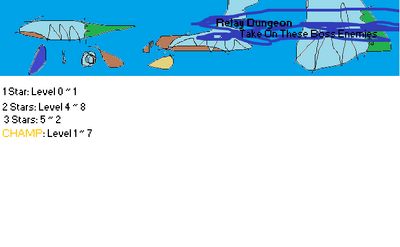 Relay Dungeon Is A Special Dungeon Of Our Continents.
Notes For Relay Dungeon (GCFNA):
The Players Have Been All Levels To Enter/Start.
You Can Enter Between 4:44pm & 2:34am.
The MidBosses Are Not Fought
Note For Agraddon's Relay Dungeon's First Room (GCF):
Map
S-B-B-B-B-B-B-B-B-B-B-B-B
Enemies
Elder Kungji
Sand Ruler
Spider Fairy
Bonus
Battle Darahann (Underground Of Fire's Boss) At The End Of Tyrenna's Relay Dungeon
Map
Enemies
Serpet Hazard
Black Demon
Ice Nephilim
Ice Wevern
Gordosen
Triforya Lord
Bonus
Agraddon
Edit
Map
S-B-B-B-B-B-B-B-B1-B2-B1-B2
Enemies
EPC
Spade
Guardian Perrajotarutegoletjuroteji
Ancient Fire Golem
Royaled Paradom
Elder Bug
Elder Yeti
Talin Elfbane
Sentry 1 - Sentry 2
Duel - Arawn
Map: S-B-B-O-B-B-B-B-B-B-B Enemies:
Forest Ergate
UnderVit
AncientBot
Bolb
Power StingRay
Bonus
Ad blocker interference detected!
Wikia is a free-to-use site that makes money from advertising. We have a modified experience for viewers using ad blockers

Wikia is not accessible if you've made further modifications. Remove the custom ad blocker rule(s) and the page will load as expected.