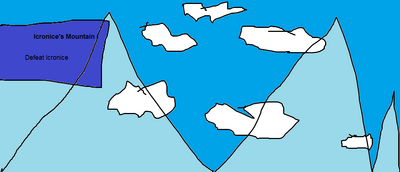 Icronice's Mountain
Is A Seventh Dungeon That Rests Itself In Aclurba. Dispite, Some Enemies From Silver Land, Xenia, Tyrenna (Elestiat Sea), & Alason (Mountains Of Hell) That Makes Appearance Here.
Blue Knight Spearman Lvl 31
Icicle Gargoyle Lvl 32
Mini Blue Fairy Lvl 33
Icicle Mini Muntant Lvl 34
Icicle GashiMok Lvl 35
Ice Pyrnos Lvl 49 (Mini Boss)
Icronice Lvl 44 (Boss)
Icronice Is A Ice Demon That Has Similar Face To Krakos And Colored Blue And Has Arms And Hands Just Like Ice Nephilim And Similar Legs To A Crustean's And Colored Blue And Similar Head To Josh's Ultimatrix Hero, ColdFiernd.
Beggining
Edit
SoundTrack - Theme Castle B
Elesis: What Is This Dungeon!
Arme: It's A Dungeon Called A Mountain Of Icronice.
Josh: It Has A Cold Device In It.
Zero: What?!
Dio: It's a Cold Device Called A Ice Core
Zero & Josh: Wooooooooooopppppeeeeeeeeeee... A Cold And Ice Core....So.....Icicled.
SoundTrack - Boss Theme Vulcanus
Icronice: I'm ICRONICE, Give Your CUBES TO ME!!
Elesis:(Dumb)!!!!
Zero: No, It's Dangerous!
Icronice: It Is NOT Dangerous.
Josh: It IS Dangerous.
Dio: Let's Die Icronice!
Zero, Josh, Dio & Elesis: Charge!!!!!!
After You Died Icronice
Edit
SoundTrack - Theme Ice Berg
Josh: Good Bye, Icronice, A Stupid Ice Devil Muntant!
Icronice: Aaaaaaaaaiiiiieeeeee!!!
(Josh Scanned Icronice And Died Icronice)
Elesis: Well Done.
S-O-O-O-O O O B
Josh Scanned And Died Icronice.
There's A Golem In Icronice's Mountain, Ice Pyrnos, And Ice Pyrnos Is A Golem With Similar Wings To Duel And Similar Eyes To Darahann, The Soul Burner.
There Is Blue Spikey Doors Were There Similar To Red Spikey Doors In Underground Of Fire.
Castle B Theme (Main Theme)
Vulcanus Theme (Boss Theme)
Altar Of Harmonie Theme (Post-Boss Battle Theme)
Ad blocker interference detected!
Wikia is a free-to-use site that makes money from advertising. We have a modified experience for viewers using ad blockers

Wikia is not accessible if you've made further modifications. Remove the custom ad blocker rule(s) and the page will load as expected.