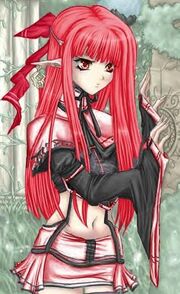 Decription
Edit
Name:Hadenal
Age:19
Race:Elven
Gender:Female
Likes:Flames
Dislikes:water, fire extengushers
Hadenal is a very short tempered fire mage.She'll blow you up and not think twice.She is the third part to an intermix of mages
that no ones knows about.Hadenal my have something to do with Surrian and Aquaris but it is to early in her storry to know for sure.She is first meet at Minth Wryw
Hadenal uses a fire staff that lets her cast fire magic at an alarming rate.This staff
includes two blades on the side for heavy hitting and shoulded be used lightly.
1st:Fire mage
2nd:????
3rd:????
4th:????
1st job skills
1mp:fire bomb:a huge exploshion goes off, causing fire to fly everywhere and hit everything
2mp:Flame dance:Hadenal causes the fire to dance around in circles around enemies
3rdmp:Blazing Furry:Hadenal calls apone great forces to blow everything to smitherings
Her theme is The Nightmare Before Christmas This is Halloween:http://www.youtube.com/watch?v=JjRLOAFHVHE&feature=PlayList&p=8AE4E245553D38FB&playnext_from=PL&index=2
(notice that if you take away the nal and add an s her name spells Hades, god of the underworld.)
Ad blocker interference detected!
Wikia is a free-to-use site that makes money from advertising. We have a modified experience for viewers using ad blockers

Wikia is not accessible if you've made further modifications. Remove the custom ad blocker rule(s) and the page will load as expected.