Galaxy Of Hell
Is A Second Hackredoic Dungeon In Creation. It Will Take Roll On January 30, 2011.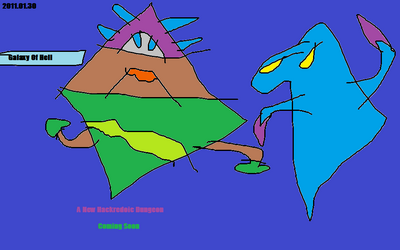 (Coming Soon) Enemies
Edit
First Room
Edit
Mini Ice Golem Lvl 34
Fire Gargoyle Lvl 34
Lightning Triforya Lvl 34
2 Second Rooms
Edit
Stage 2-1
Bloodwind Ergate Lvl 44
Fytros Lvl 44

Stage 2-2
Ice Wyrm Spawn Lvl 44
Violent Ice Bug Lvl 44 (Similar To The Ice Boss In GCFS4, Icicle Bug King)
Third Room: Sanctum Of Life
Edit
Stantiel Lvl 54
Rukkha's Branch Lvl 54
Mini Stone Golem Lvl 54
Stone Golem Lvl 64 (Mini Boss)
Final Room: Lightning Star
Edit
OmniSentry 1 Lvl 64
OmniSentry 2 Lvl 64
DragonDiamond Lvl 74 (Boss)
(Coming Soon) Story
Edit
Beginning
Edit
DragonDiamond: Welcome To The Galaxy!
Elesis: What Du?
Josh: Let's Die Some Enemies Now!
DragonDiamond:Now..DIE!
Next Room
Edit
N/A
Next Room
Edit
N/A
DragonDiamond: Very Good! Finnaly! Now...DIE!
Josh & Elesis: Charge!!!
Post-Boss Battle
Edit
DragonDiamond: Dahahaha! I Now Fly Away! (The Screen Goes Blue When DragonDiamond Flies Away)
Josh: Was He Defeated
Elesis: No....He...Actullay...Flew Away!
Elesis & Josh: We Did It!
(Coming Soon) Themes
Edit
Main Theme
Edit
Theme: Furnace Of Hell (theme_furnaceofhell.mp3)
Boss Theme
Edit
Ad blocker interference detected!
Wikia is a free-to-use site that makes money from advertising. We have a modified experience for viewers using ad blockers

Wikia is not accessible if you've made further modifications. Remove the custom ad blocker rule(s) and the page will load as expected.