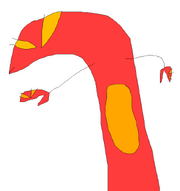 Drekka
Is A Boss Of
Cave Of Lavas
. He Is Red In Color. He's The Same As The White Rukka Of The Forest Of Life In The Regular Grand Chase Using 4 Arms As Armhead Butts And Shoots Red Posion. He Appears In Season 3 As A Fire Sea Mosster. As Of Grand Chase Fan Chaos, He Now Has His Normal Look Back.
Ad blocker interference detected!
Wikia is a free-to-use site that makes money from advertising. We have a modified experience for viewers using ad blockers

Wikia is not accessible if you've made further modifications. Remove the custom ad blocker rule(s) and the page will load as expected.