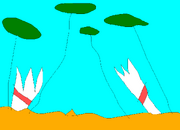 Desert Palace
Is An Upcoming Dungeon That Is Releasing June 2012. It Will Be The First Redoitic Dungeon.
Snake
PoleMover
Beetle Demon (Mini Boss 1)
Ancient Dragon (Mini Boss 2)
Ancient Fire Dragon (Boss)
SoundTracks
Edit
Track_DesertPalace
Track_AncientFireDragon
It Is Not A Scrapped Dungeon Anymore Because It Now Has A Revamped BackGround.
Ad blocker interference detected!
Wikia is a free-to-use site that makes money from advertising. We have a modified experience for viewers using ad blockers

Wikia is not accessible if you've made further modifications. Remove the custom ad blocker rule(s) and the page will load as expected.